Imagining a Rebuild
September 29, 2011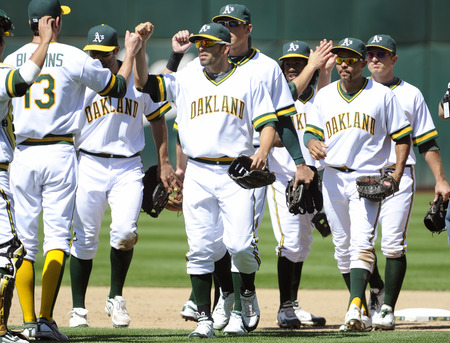 John Shea and Susan Slusser of the San Francisco Chronicle had some interesting tweets today from the press conference featuring GM Billy Beane – who it appears is staying in Oakland and not considering the Cubs position. Tweeted Shea,
"With speculation about Cubs GM spot, Beane says of A's, 'Yes, I plan on being here.'"
Furthermore it appears that Beane feels that the stadium situation will be resolved, from another Shea tweet,
"Beane said he heard from MLB re: a resolution to the stadium committee: "We've been told a number of times a decision is near."
"Beane confirms offseason spending linked to getting stadium decision. Says OF too area that needs to be addressed."
I have to believe a decision is imminent as this represents a marked change in talking point from Beane and the A's. I also believe that they likely are hearing the response they want to hear and will be moving to San Jose. That all said from today's Drumbeat Slusser reiterated that should the A's indeed move they will be rebuilding instead of immediately adding payroll. She writes,
"Beane also  confirmed what I reported Sunday, that the A's spending will be tied to the stadium decision, and, as I wrote then, that if the club gets the OK to build a stadium in San Jose, they will look to build a young contending team for that stadium – i.e., concentrating on player development in the interim. A rebuild.

That means no Josh Willingham, likely no Coco Crisp or any high priced free agents coming in from outside the organization, either, just as Willingham and Crisp's agents were hearing"
So what would an A's rebuild look like? First off it is clear all the free-agents would be gone (Hideki Matsui should be included in that group but likely will not be). I wonder if Rich Harden still would be re-signed, he seems like a worthwhile option to keep around and be a veteran influence on a young staff but that is far from certain. The A's need to rebuild their hitting corps and to do so could choose to trade their young pitching, but I think that the A's should keep their young pitching largely intact as that group is very young and could be entering their prime in a three-year rebuild scenario. Therefore the first thing I would do is trade Andrew Bailey.
Any team that is not planning on contending has zero use for a closer. The A's have demonstrated in the past that having a high priced front line closer is not a necessity having swapped out Billy Talyor for Jason Isringhausen for Billy Koch and so on. Bailey is a luxury that is both not a necessity if we were contending and is especially a luxury that is not necessary if we are not. Teams will pay high for a pitcher like Bailey who currently comes cheap, deal him when his value is at its apex. Same applies to Grant Balfour, same applies to Brian Fuentes (who is far from the height of his value but who is certainly not a necessity) and the same applies to any other member of the A's bullpen being paid more than the league minimum salary. Dallas Braden should likely be retained as a veteran solid influence on the young staff – particularly what would be a very young bullpen corps.
If you are rebuilding, tendering Brandon McCarthy still makes sense but now it may be with an eye to trade him to a contender at the deadline. Braden could be a candidate for a midseason trade as well, as pitchers like him suddenly become highly valued by contending clubs come July (see: Erik Bedard, Edwin Jackson or Jason Marquis). One other pitcher who is arbitration eligible but who I would sign to an extension to keep him in line with being ready to be a front line starter when the rebuild is complete is Gio Gonzalez.
Offensively the A's don't have many pieces to trade so I'd maintain the status quo while trying to sign injury value rebuild candidates like McCarthy and Harden and dealing them midseason to pick up spare young bats. The guys the A's have should be kept in place because there is no point in upgrading an offense that is not built to contend. Just keep them cheap.
If the A's follow this plan there are far from assured of success. The strength of the Moneyball-era Athletics was most certainly their big three starting pitchers, but also they had a lineup filled with real Major League All-Star caliber hitters and to get that they need to draft well, no trades will net that sort of quality unless you completely sacrifice your pitching and given the A's strong ability to draft starters that may be an option.
It may be a sad few remaining years in Oakland but it also may be well worth it. It will be fascinating to see what Billy Beane does to rebuild this club into a contender and a contender that may be able to afford to keep their players. If the A's make moves like retaining Hideki Matsui it worries me about exactly whether or not the front office's heads are screwed on right but we will just have to wait and see.